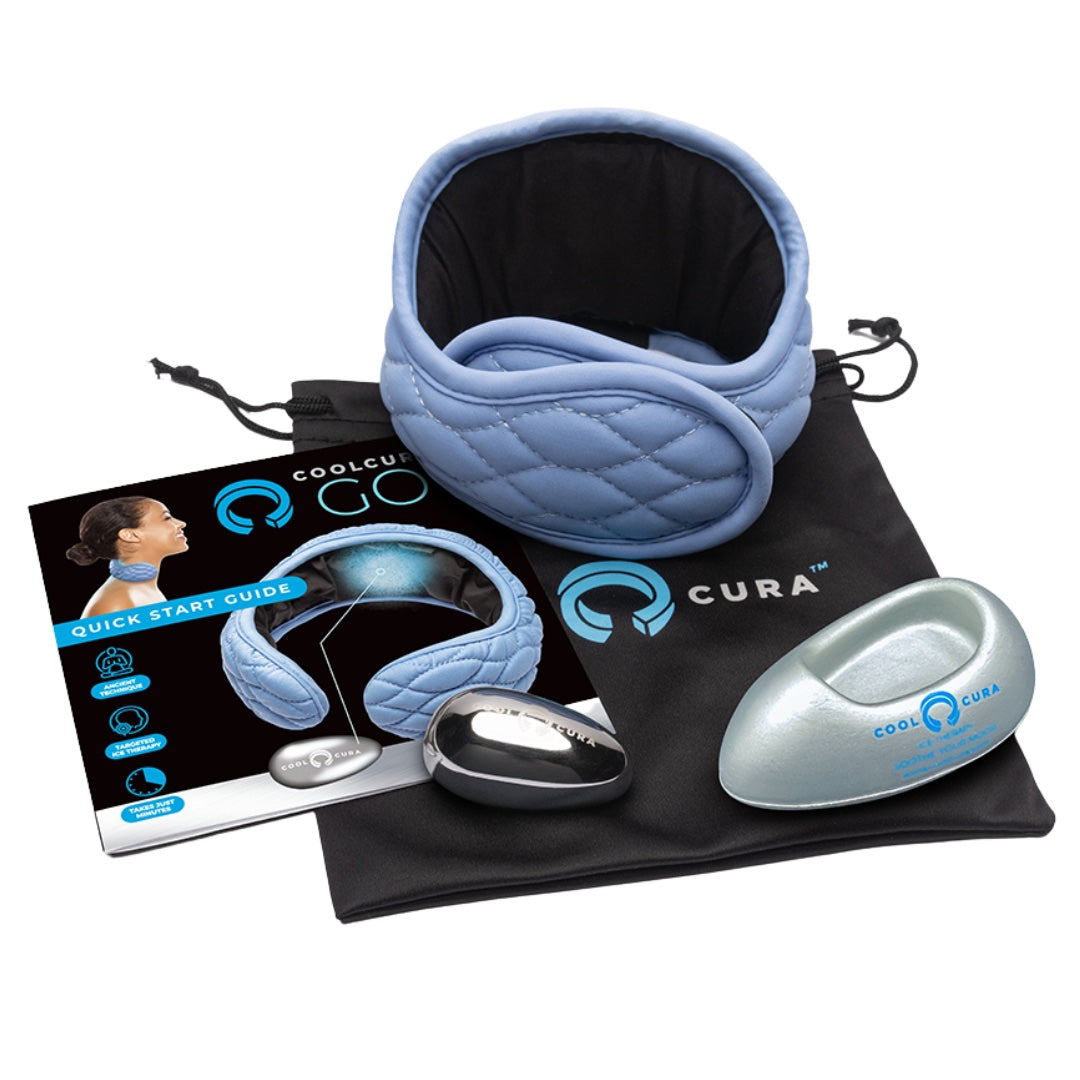 CoolCura Wearable Stress Relief Device - Natural Anxiety Relief & Pain Relief Using Ice Therapy & Feng Fu Acupuncture Point - Cooling Neck Wrap for Headache Relief & Mood Boost - Adjustable Band.
Shop Now
How It Works
CoolCura puts a modern twist on an ancient acupuncture technique called Feng Fu. Feng Fu is the point where the spine meets the skull. Worn around your neck, CoolCura places ice direcely on your Feng Fu point; releiving stress, anxiety, and pain within just 20 minutes.
ENJOY THE BENEFITS OF ANCIENT FENG FU ICE THERAPY
CoolCura™ Go provides a comfortable, easy to use solution allowing you to sit back, relax and let the cooling effect ease your mind, body and soul, In just 20 minutes
Our Story
The CoolCura™ journey began when Barbara was helping our oldest son Austin change his surgical dressing. Austin began to experience what some would describe as a panic attack. Barbara recalling that nurses had often placed ice on the back of her mother's neck during her battle with terminal cancer, she tried the same technique on Austin. To their surprise the application of the ice to the back of Austin's neck had an almost immediate calming effect. Curious about what happened, we did some research that ultimately led us to our discovery of Feng Fu Ice Therapy.
According to Ancient Medicine, the application of ice to the Feng Fu spot was believed to offer numerous benefits We began to experiment with the application of ice to the back of our necks and despite many positive effects; our overall enjoyment was dampened by melting ice dripping down the back of our necks and the need to hold or adjust the ice on the proper spot. In search of a solution to these drawbacks, we created the CoolCura™ line of products. We have enjoyed sharing the many benefits of Feng Fu Ice Therapy with our family and friends. We invite you to use our CoolCura™ products to relax, refresh and rejuvenate.
Brian Adams and Barbara Canellis;
CoolCura™ Co-Founders.